Description
Why College Boreal Residence?
About College Boreal Residence
With a capacity of 138 places, the residence offers a pleasant and safe living environment at an affordable cost. Each student shares his or her apartment with a roommate of the same sex. Some of the apartments are suitable for people with special needs. Located in a wooded and calm environment, on the south side of the campus, the building is a stone's throw from the cafeteria and College services as well as the walking path. The College Boreal Residence is professionally operated and managed by Campus Living Centres.
Thinking about living in residence? Join us for an in-person tour, available on a drop-in basis (no appointment necessary). You can also take a self-guided virtual tour of a suite and lounge area to see what residence has to offer.
Advantages of staying in residence:
Your suite comes fully furnished with a double bed, desk and dresser. Each bedroom also features high speed and wireless internet access, and telephone with free local calls.

The residence is equipped with a laundry facility, common kitchen, common lounges (with varying amenities in each), and a front desk that is staffed 24 hours a day.

Avoid a 12- month lease and pay only for the academic year (eight months).

Live on campus and enjoy all college amenities (computer labs, library, cafeterias, etc.) – you are only steps away.

You don't have to worry about roommates who do not pay their bills.

Take part in the events hosted by your resident advisor (RA) or get involved as an RA team member yourself.

Participate in the many clubs and committees on campus.

Enjoy the comforts the residence provides with secure building access (swipe cards), front desk services and video surveillance in various areas of the building.
The following residence fees are for the 2023/24 school year. They apply to full-time students registered at Collège Boréal. Residence fees include utilities, local phone access, cable TV, internet access and a furnished bedroom. Students can apply for residency before being accepted into their program. When you live in residence, your fees cover your accommodation costs, internet, local phone service, all utilities, furnishings, appliances, etc. The only other costs would be if you required parking or if you decided to purchase a meal plan.
Campus food services and meal plans are available through this link.
The residence has dedicated parking on campus located in two lots close to the residence and is available for an additional cost. Residents may purchase a parking pass from the College Boreal Parking office.
If you are unable to meet the payment options set out in your acceptance email, please contact info@residenceboreal.ca to set up a payment plan.
Summer 2023 (May 7, 2023 – August 19, 2023)
Option 1
$2,400 due April 15, 2023
Option 2
$1,200 due April 15, 2023
$1,200 due June 15, 2023
Academic Year 2023-2024 (September 2, 2023 – April 23, 2024)
Option 1
$7,200 due June 15, 2023
Option 2
$4,300 due June 15, 2023
$3,000 due September 30, 2023
*$100 Admin fee included
Option 3
$2,500 due June 15, 2023
$3,400 due September 30, 2023
$1,500 due January 15, 2024
*$200 Admin fee included
Winter 2024 (January 6, 2024 – April 23, 2024)
Option 1
$3,600 due December 15, 2023
Bedroom
Oversized double bed
Bedframe storage
Nightstand with lamp
Desk and work area with chair
Internet
Free local calls
Closet organizer
Kitchenette
Microwave
Full-size refrigerator
Kitchen table and chairs
Preparation area complete with sink and storage area
Bathroom
Three-piece bathroom
Single shower or bath-shower
Summer 2023
March 1, 2023
Summer acceptance emails distributed
April 15, 2023
Summer residence fee deadline (option 1 and 2)
Deadline to cancel summer application without financial penalty
May 7, 2023
June 15, 2023
Summer residence fee deadline (option 2)
August 19, 2023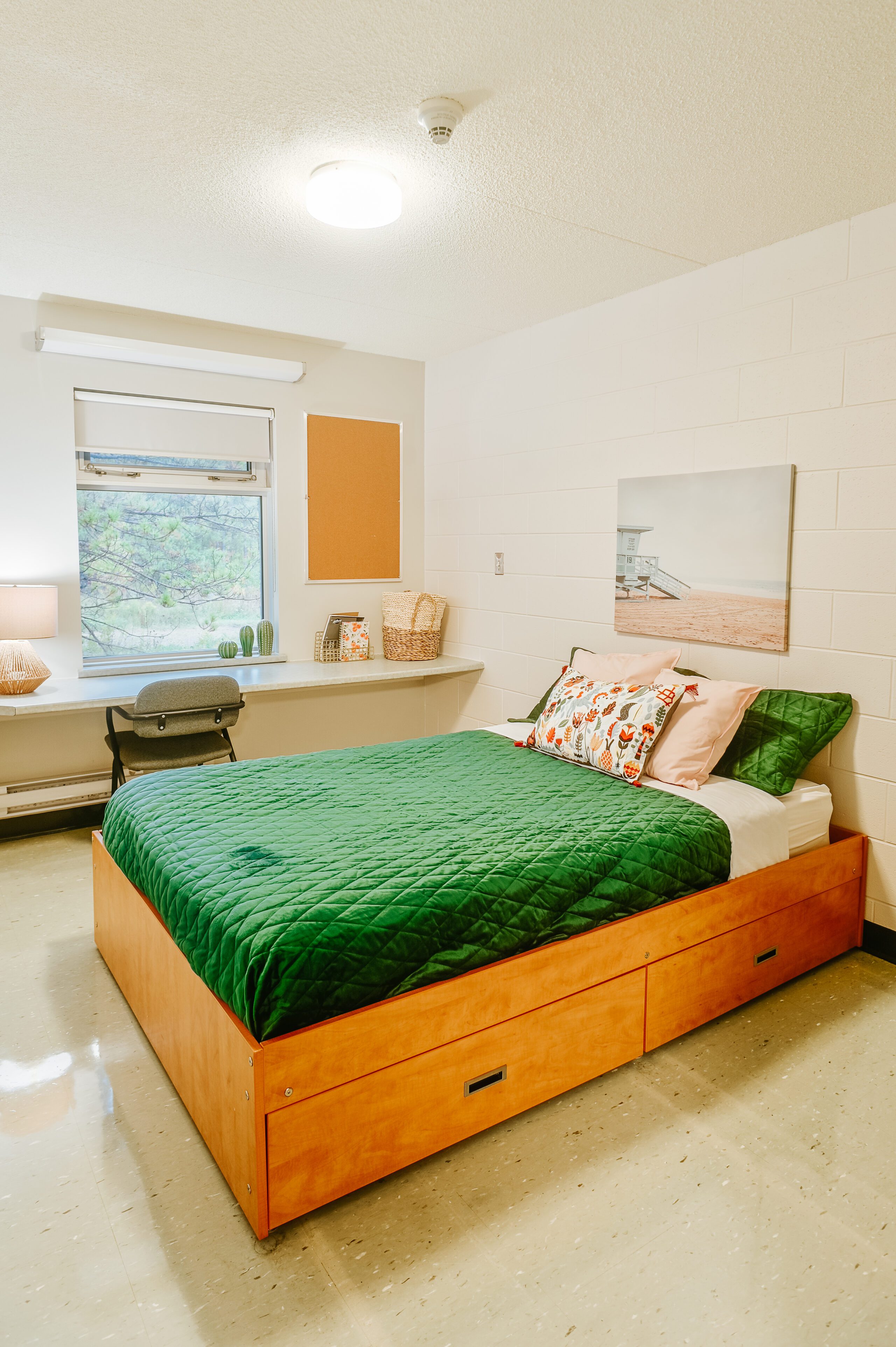 Documents
Your filters did not return any results.
Contact us
Collège Boréal Residence