About the CNFS

The Consortium national de formation en santé (CNFS) is a pan-Canadian group of sixteen colleges and universities that offer French-language study programs in various health disciplines, as well as regional partners, with the financial support of Health Canada.
Under the aegis of the Association des collèges et universités de la francophonie canadienne (ACFUC), the CNFS offers an exceptional alliance to improve the provision of quality and adapted French-language health services to Francophone communities in minority situations through increased training of health professionals. Thus, in collaboration with their regional partners, the CNFS contributes significantly to the well-being and full development of these communities across the country. To learn more about the initiatives implemented by the various members of the CNFS, including the national secretariat, visit the CNFS website (www.CNFS.net).
The CNFS-Collège Boréal Section's team works closely with various internal and external partners to promote the development of three priority areas: recruitment of future health professionals, training and health research within Francophone communities in minority situations. To learn more about the programs and activities related to these priority areas, explore the various sections of this web page or contact us.
Ambassadors of CNFS - Collège Boréal Section
The ambassador group provides the opportunity to exchange and collaborate with students in various health and social services programs at Collège Boréal. Led by a representative from the CNFS team, this group allows students to work interprofessionally. They have the opportunity to develop and implement activities by and for students, to participate in positioning and recruitment activities as program representatives, and to share their student perspectives in the evaluation and planning of initiatives.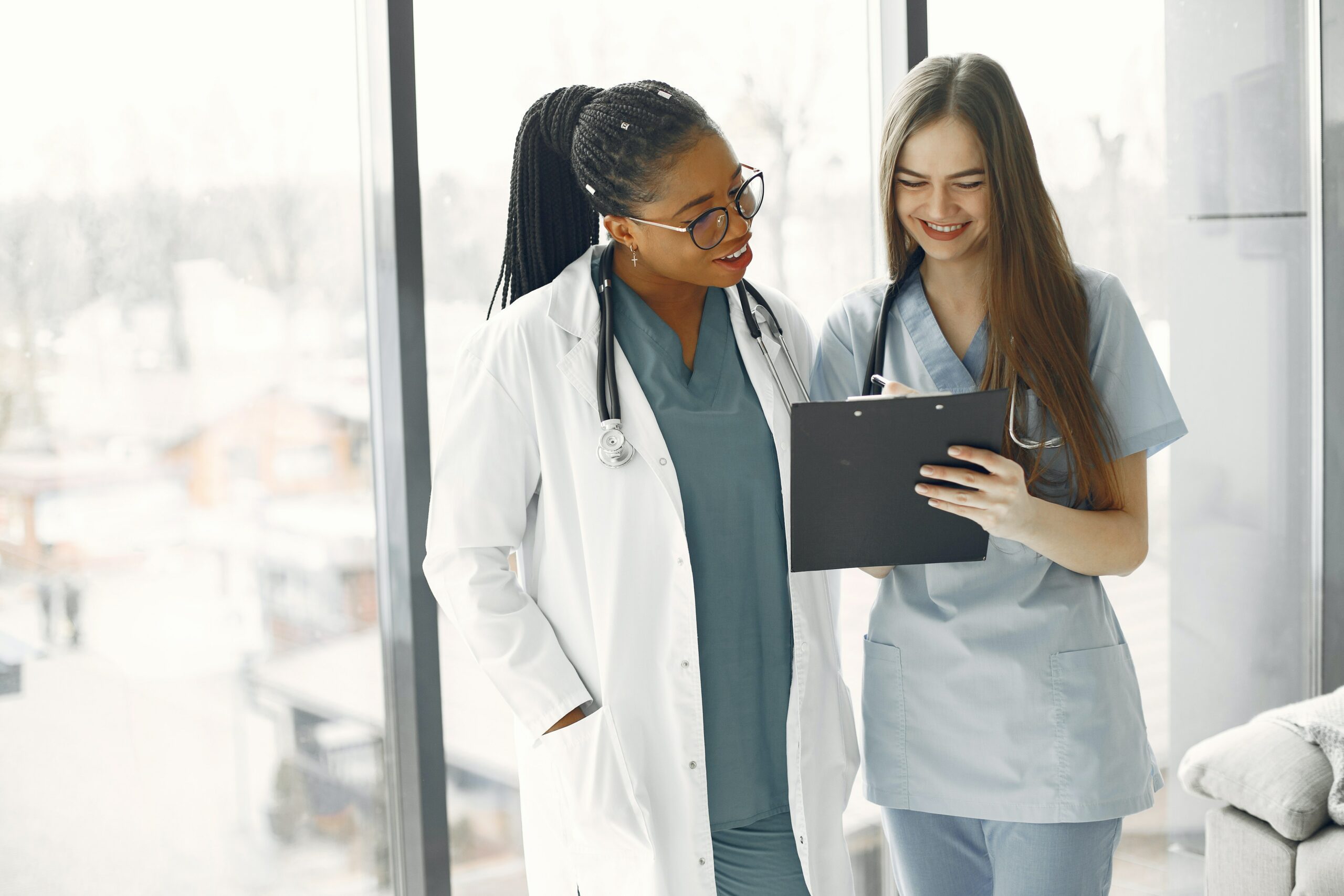 Entrance Scholarships ($500)
These scholarships are dedicated to students enrolled in the first year of their CNFS program of study at Collège Boréal. A total of 20 scholarships will be awarded based on the quality of the application. Students must clearly explain why they have chosen to study in the health field in French. If more than 20 applicants meet this first selection criterion, the student's cumulative average will be taken into account in the selection process. To apply, students must complete the electronic application form (link provided above).
Support Scholarships for Internships ($250-$750)
The purpose of support scholarships for internships is to support students with expenses related to additional costs imposed by the internship. Three levels of support are offered according to students' needs related to the internships. Please note that students can only apply for a support scholarship for internships once a year and that internships must be carried out in a French-speaking minority community in Canada (excluding Québec). Once the scholarship application has been received by the CNFS team, the information submitted must be confirmed with the program coordinator and/or internship coordinator before being approved.
The levels of support are as follows:
Local internship support scholarship: $250 (support for parking costs or additional costs related to internships – travel of less than 50 km total per day)
Regional internship support scholarship: $500 (support for travel expenses for a total round-trip distance of 50-150 km per day)
Distant internship support scholarship: $750 (support for travel and/or accommodation expenses) – support for travel expenses for a total round-trip distance beyond 150 km per day and/or accommodation expenses.
This national recognition award is offered annually to a student enrolled in a CNFS program at each of its 16 institutions who distinguish themself by their commitment to the active provision of health services in French. For more information, visit the CNFS national secretariat website.
Internships
Internships and experiential learning remain key elements in the training of future healthcare professionals.
Putting knowledge into practice and exchanging with various healthcare professionals in your internship setting will allow you to go deeper into the many concepts learned in the classroom.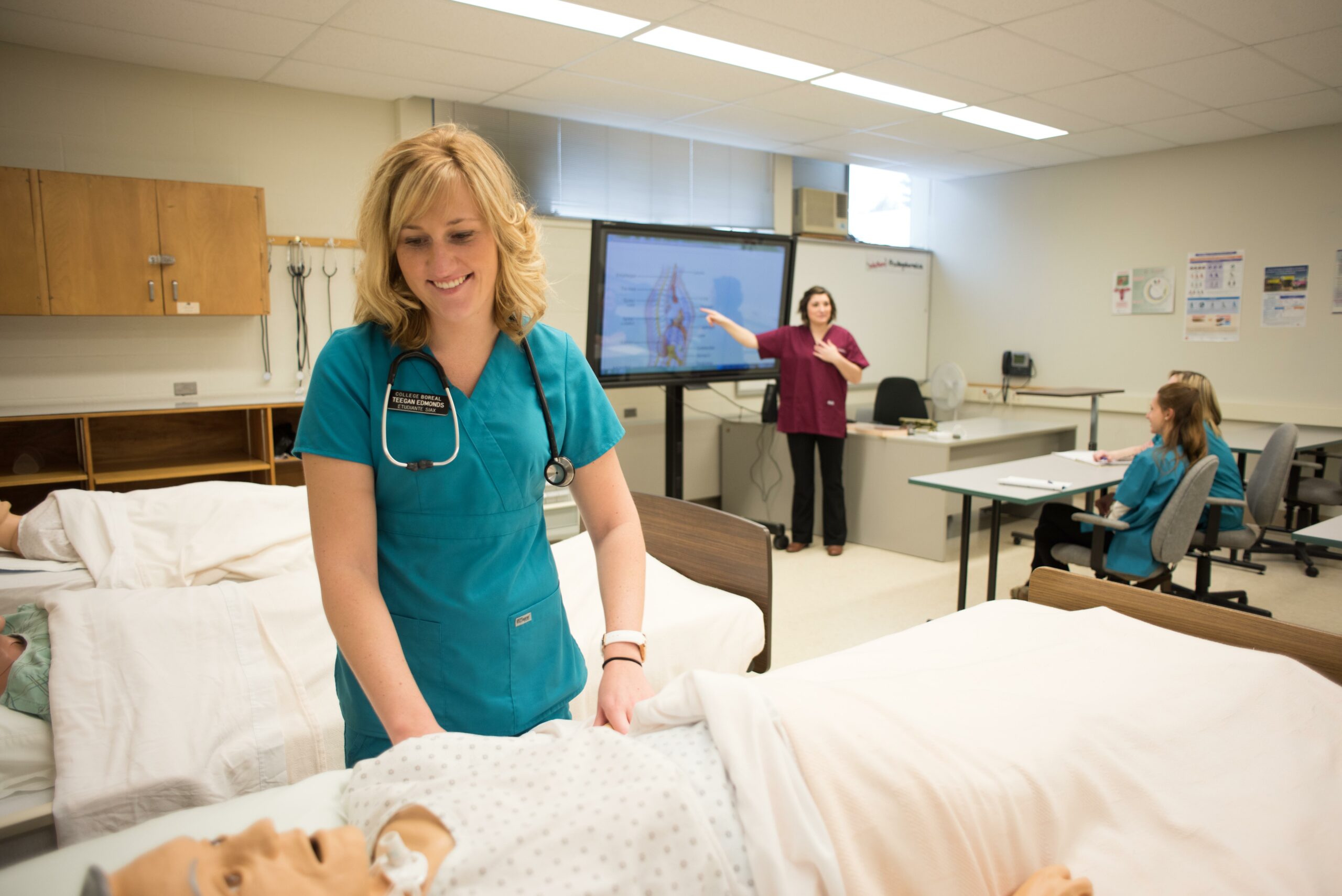 Training, Conferences and Workshops
The active offer for French health and social services consists of proactively and confidently offering a set of services in French from the first contact with the patient. The active offer of these services is a matter of quality, safety, ethics, and equity.
The Active Offer Hub is a directory that allows direct access to a variety of resources related to the active offer.
To learn more about the active offer of French services, the Réseau du mieux-être francophone du nord de l'Ontario offers a free training of 3 or 5 hours (introduction + three or six modules). In order to receive a certificate of attendance, you must successfully complete an evaluation at the end of each module.
The CNFS Collège Boréal Section offers its students free "Je parle français" magnetic pins to equip the future health professionals during internships and community activities. If you have not yet obtained your "Je parle français" pin and you want to get one, simply complete this order form.
Journeying to Well-being: Training Kit for an Optimal Mental Health
A free kit offered by the CNFS-University of Ottawa Section has been designed to give you strategies to prevent the onset of student burnout syndrome. It will help you, among other things, to recognize the warning signs of this syndrome, better understand your feelings and discover the factors that put you at risk of developing this syndrome. Thus, you will be able to choose preventive strategies and attitudes that work for you to improve your well-being. By consulting the various videos of this kit, you are already taking a concrete step to improve your mental health!
Journeying Towards the Success of My Internship
A free training offered by the CNFS-University of Ottawa Section. This online workshop includes all the tools necessary for the success of your internship in the health field. It helps you become an active learner, understand your role, and more.
The programme d'excellence professionnelle (PEP) aims to improve the knowledge of professionals, managers, and students through lunchtime conferences on various topics. Participants can attend the conferences in person or connect by videoconference or webinar.
Professional Training Workshops Online
The CNFS-University of Ottawa Section health professionals team provides a series of online or in class workshops under the professional training directory available to all health professionals working in Canada.
Here are some examples:
Cheminer vers le mieux-être : Contrer l'épuisement professionnel par la résilience
Découvrir les troubles neurocognitifs afin d'optimiser mes interventions
Intégrer les données probantes à notre pratique quotidienne : un défi réalisable
Formations en supervision de stages
Le CNFS-volet Université d'Ottawa offre gratuitement une série d'ateliers de niveau de base et avancé en lien avec la supervision de stage.
Research
Research and knowledge mobilization related to the health of Francophones in minority situations remain a priority within the CNFS member institutions.
Thus, CNFS – Collège Boréal Section encourages its students and team members to actively engage and collaborate with various partners to contribute to the advancement of knowledge in various health fields and improve the quality of care provided to Francophones in minority situations.