Collège Boréal in Toronto's Distillery District : Coming Soon!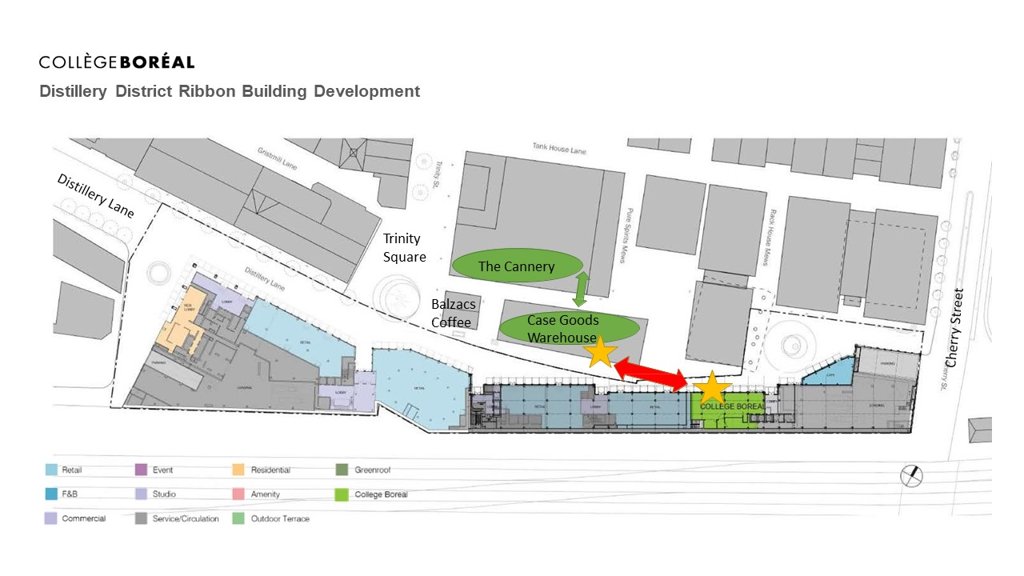 Good things come to those who wait, as the saying goes, and the wait for Collège Boréal to make its way in Toronto's wonderful Distillery District has been a case in point. But soon, the wait will be over!
Collège Boréal is very pleased to announce that a temporary campus in the heart of the Distillery District will be opening in September 2023. Located in the Casegoods Warehouse heritage building at 15 Case Goods Lane, these new spaces will help Collège Boréal to meet the growing demand for highly qualified bilingual workers.
With more than 4500 square metres spread across four floors, this location will be completely transformed into bright and modern spaces equipped with state-of-the-art technology. A business incubator, collaborative workspaces and an event space will make this temporary campus a key asset for Toronto's learning, education, business and Francophone/Francophile communities. Collège Boréal will continue to provide a wide array of programs, including some new offerings, as well as specialized services for newcomers.
The pandemic, as well as long-awaited major public infrastructure projects, forced us to again revise the timeline for occupancy of our spectacular new permanent campus in Toronto. However, we are moving closer to our goal by setting up in the Distillery District where, along with many partners, we will provide the ambitious and innovative programming we intend to bring to Toronto. Program details will be unveiled in coming months. Thanks to the flexibility of property owners in the Distillery District and our funders, to whom I express sincere thanks, Collège Boréal in 2023 will reach an important milestone that will allow our institution to continue to improve access to post-secondary programs and French language services in Toronto.
Collège Boréal's much-anticipated expansion in downtown Toronto and the broadening of its program and service offerings will pave the way for an increasingly business-friendly Ontario with a pool of qualified bilingual graduates. Our government is delighted to have Collège Boréal as a partner in our efforts to build and retain a strong francophone workforce that will best meet future needs in key sectors.
For over 25 years, Collège Boréal has been a leader in French-language education, producing graduates with unique skillsets and the ability to serve Francophone communities throughout Ontario. I am thrilled to see this vibrant, French-postsecondary institution take the steps to expand their capabilities and thereby serving Ontario's Francophone communities to even greater degrees.
Key developments
2018 — Collège Boréal announces that a new building -the Ribbon building- will be built in the Distillery District by the fall of 2020.
2019 — The Government of Ontario announces the new Ontario Line project, extending the subway through the Distillery District, with direct access from Collège Boréal's new campus.
2020 — Collège Boréal's lease for its current Toronto campus expires and is renegotiated until 2023, the new opening date for the Ribbon Building in the Distillery District.

— The COVID-19 pandemic results in delays to the start of construction work on the Ribbon Building.
— The Building Transit Faster Act, S.O. 2020, is adopted in June, giving the provincial agency Metrolinx control over all development projects in sectors where construction will be needed to expand Toronto's public transit system, further delaying the start of the campus construction.

2021 — Collège Boréal negotiates a lease for a temporary campus in the heart of Distillery District and announces that it will open in September 2023.
Learn more
To find out more about Collège Boréal's programs and services, please visit our website at www.collegeboreal.ca or follow us on Facebook and Twitter.
For further information:
Communications Office: